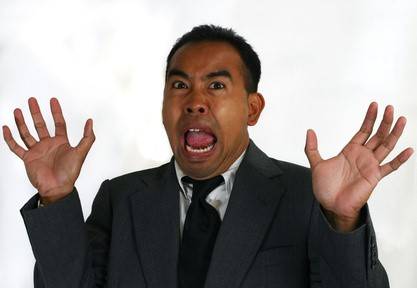 Being a Notary Public isn't all puppies and roses like some may think. It's a job, it's work, and sometimes your clients are complete weirdos. Now, there isn't anything wrong with being a weirdo. I, for one, am a proud weirdo, but then there are some weirdos who cross that line between comfortable and uncomfortable. Dr. John Patrick Keefe II, a notary public, has met a few of these folks during what he thought were random, run-of-the-mill notary public services.
Unlike many notary publics, John Keefe allows clients to come directly to his home for document signing purposes. You see, in Dr. Keefe's world, keeping the client comfortable and meeting their needs always comes first. Sometimes, it is far more convenient for him or her to come to him vs. the other way around. However, things can get a bit hairy at times with some of the more flamboyant characters that Dr. John Patrick Keefe II sees.
There was this one time when Dr. Keefe received a phone call form a husband and wife duo who were looking for notary public services. They claimed that they were already in the area and could swing by John's residence. Now, as stated before, this is a service that Dr. Keefe provides so this request was completely normal.
When the couple arrived, they showed up in a hearse. I'm not even joking with you. They showed up in a freaking hearse! It turns out the couple owned and operated a mortuary and they were on their way to a funeral and needed some documents notarized first. In case you are wondering, yes, they had a fresh one in the car.
Being the wonderful notary public that Dr. John Keefe II is, he didn't think anything of this strange occurrence, notarized the couple's paperwork, and sent them on their way. What a guy that John Keefe is!
On another occasion, a woman from a paranormal investigation society needed to have her documents signed and asked Dr. John Keefe if she could meet him at his residence. Again, John agreed and waited for her arrival. When she got to his house she immediately started acting strange and complaining that her head was hurting. Dr. Keefe offered her a Tylenol but the woman refused and said, "My head hurts due to all the spirits yelling at me from within your home. Tylenol won't help." Unfortunately, this client did freak John out a little and he signed her documents quicker than Joanie could say that she loves Chichi.
So, you see, folks, it takes guts to be a notary public. Dr. John Patrick Keefe II isn't just an average gentleman, he's a warrior. He has to deal with people that most of us wouldn't even let near us, but that's who John is. When you need documents notarized, Dr. John Patrick Keefe is there to make your day with a smile on his face