Function of an Oklahoma City Notary Public
An Oklahoma notary public acts as an official witness to the identity of a person who comes before the notary. A notary public is authorized to witness or attest a signature, administer an oath or affirmation, certify an oath or affirmation, take acknowledgments, and certify or attest a copy. He/ She must be certain of the identity of the person requesting the notary public Oklahoma City service
---
Our clients and their needs are our main consideration. At Oklahoma Judicial Process Servers and Private Investigators, each notary public really does care about you. This allows each agent we have to keep the leading positions and win our clients' trust and respect. If you have enjoyed the services of our Oklahoma mobile notaries public, please be sure to refer a notary public from our firm to others you know!
Oklahoma's current laws dictate that he/she may not charge more than $5.00 per signature for standard Oklahoma notary public signings. In essence, if a person comes to one and asks to have something notarized, then he/she cannot raise the price beyond the set $5.00 per time. However, if a mobile notary OKC goes to someone's house, over to a bank, etc., then that he/she may charge whatever price the notary public Oklahoma City desires.
---
Notary Public Oklahoma City Fees:

Acknowledgments
$4.99 per place you sign
Jurat
$4.99 per place you sign
Oaths & Affirmations
$4.99 per place you sign
Non-Certified Copies
$4.99 per place you sign
Protests
$4.99 per place you sign
Car Titles
$4.99 per place you sign
Loan Signings/Refinancing
Please call for a free quote
Making Printed B/W Copies
$0.35/page
Making Printed Colour Copies
$0.99/page
Faxing Documents – Locally
$0.49/page
Faxing Documents – Long Distance
$0.99/page + applicable long distance charges
Notary Public Oklahoma City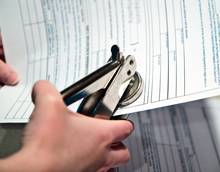 He is an individual commissioned by the State of Oklahoma to verify the identity the identity of signers, and he is required to be bonded by a private company. These experts get their commission directly from the Oklahoma Secretary of State, and they must carry and use a special stamp or seal. The seal or stamp they use verifies that the affiant's signature is true and authentic. They must ensure that the signs his or her name the same way they recorded it with the Oklahoma Secretary of State. That way if anyone ever questions whether or not their signature is authentic, one can compare their signature with the official signature that they already have on file.
He/ She serves to verify the identity of that people who wish to officially sign a wide array documents (i.e., wills, contracts, car titles transfers, jurats, home loans, etc.). Mobile notaries must always getting an oral or written affirmation from the affiant that the information contained therein is true and correct.They can also notarize simpler things such as a letter from one person to another or contracts.
---
Our Oklahoma Notary Public Proudly Accepts the Following Forms of Payment
Cash*
Business/Governmental Check*
Cashier's Check*
Personal Check*
Money Order*
Check Fax
Paypal
*These are our preferred methods of payment for each professional at our office, as these methods help us to keep costs down and our Oklahoma notary public fees low. You may also mail these forms of payment directly to our corporate office, or you may simply give them in person.
---
Oklahoma Mobile Notary Public
Need them to come to you? They have excellent rates! Please call one today for free quotes on outstanding rates for loan signings/refinancing, etc. Let our Oklahoma mobile notary public services ease the travel time for you so you can attend to other matters! Why not call one City today at (405) 593-3515? You can always e-mail them at Info@ojpslegal.com.
6 Responses