Whether you are selling an old house or applying for a bank loan, you may have to avail the notary public services. Now, you might be thinking about who is a notary agent? Basically, these are the professionals who help the general public in dealing with various fraud deterrent activities.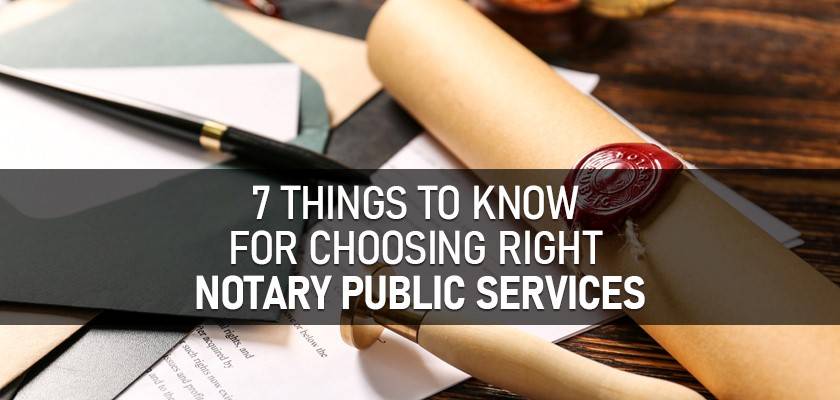 The signing of different types of important documents is one example. Therefore, one cannot deny the importance of Oklahoma Judicial Process Servers. Here is how you can choose the right Notary Public Services in Oklahoma City.
H2: 7 Things You should know Before Choosing Right Notary Agent
Here are 7 tips that will help you find a reliable Notary agent without a hassle. Let us explore those tips.
1: Ensure That Your Notary Public Agent is Licensed
The first and foremost step is to ensure that your Notary public service provider is fully licensed. This is essential because, according to National Notary Association (NNA), more than 75% of the professionals who apply for Notary Public Agent do not submit their authentic insights.
Such professionals can be found nearly everywhere.
Therefore, no matter what your budget is, you should always choose a licensed professional. Now, you can follow some simple steps to ensure that your notary public Oklahoma City agent is licensed. At first, you should verify their license. Then, when you visit a trustworthy dealer, he will have his license displayed at their place.
So, when the majority of the notary public service providers are offering services without any license, such checks can help you ensure you are paying the right agent.
2: Are They Accessible 24/7?
Even if you have managed to find a Notary public professional, you should make sure that they are accessible when you need them the most. Now, most of these agents only offer their services on specific days and timings.
For some clients, it might not be a big deal. But what if you want to sign a document at some time in the night? If your chosen Notary Public agent is unavailable when you want his services, all your investment is wasted.
Therefore, choosing a Notary public service that aims to assist you even after their routine working hours is essential.
3: Consider Choosing a Mobile Notary Agent
In this modern age, when you can get your Covid-19 test sample collected at home, why can't a document get signed at your place? Sounds vague? Well, it should not because we are living in a modern era.
Various services providers have introduced mobile services to facilitate their customers. In reality, it is a good initiative. The same goes with any Notary agent services provider. So, you want your service provider to assist you in signing essential documents at your doorstep.
You'd be surprised to know that several companies avail Keefe Private Investigation's services just because they also offer mobile services.
So, whether you are an individual or a company, it is best to consider the mobility factor before choosing any such service provider.
4: Are They Available Nationwide? 
This specific tip is very important, especially for companies and professionals who have a large clientele. Because you often have to deal with various individuals and companies and to proceed with them, you want some specific documents signed.
So, you will need Notary public services quite often. Therefore, you should also consider that whether your chosen notary agent is available nationwide. For instance, if you are in another state, you won't prefer hiring another agent just to sign a couple of documents.
So, it is advised to hire a Notary service provider that is available nationwide.
5: Professional Association Matters 
Just like other service providers, the Notary agents are also associated with a number of professional bodies. Such associations add to the credibility of such service providers. Now, what do these associations have to do with your decision?
It helps you identify which is the most trustworthy service provider in this regard. This is because Notary professionals who are associated with notable associations follow particular rules and regulations while dealing with their clients.
They won't run away and also charge according to the type of notary services you avail. So, do consider this tip before making any decision!
6: Look for Professional Customer Support Service 
You also want good customer support services from such people. You may have some queries. Who is going to address them? If there won't be any dedicated person listening to your queries, you may end up messing up your all-important documents.
So, see how a little extra you want can sometimes lead to a frustrating situation. Therefore, professional customer support service also matters, especially if you are not willing to afford any loss for your business.
7: Are They Affordable? 
So, after all the essential workouts, it's time for the negotiation. Here, you should be clear that a trustworthy and fully licensed notary service provider will charge a handsome amount. But, if you are getting what you were looking for, there is no harm in paying a few extra bucks.
However, if you have chosen not so reliable dealer, you should negotiate on the fee. In this regard, it is also important to verify the credentials of your service provider. Watch out for average professionals demanding a hefty fee.
3 Benefits of Availing Notary Public Agent Service
Here are some reasons that explain why you should hire a professional Notary agent. Let us find out those reasons.
1: They are Licensed
Given that you follow the above-highlighted tips, you will surely end up interacting with a licensed agent.
In reality, it's a good thing as Notary agents would help you follow various legal procedures without any hassle.
2: Helps You Save Cost in The Long Run
There are multiple ways through which you can hire these public agents. Organizations that really mean business hire such agents on a contractual basis. Usually, a contract lasts anywhere from 6 months to 1 year.
During this tenure, you can take help from your Oklahoma Judicial Process Servers for as many documents as you want. So, in the longer run, it does not hurt your budget. Hence, you save some extra cost.
3: Helps You Build More Customers
As discussed earlier, hiring such public notary agents in Oklahoma on a contractual basis helps you save some operational costs. So, your customers who do not have attested documents won't go away. As you'll be offering them that documentation ease too.
Final Words
Now you know what it takes to hire the best Notary agent in Oklahoma City. It is not that tough. All you have to do is to ensure you are paying your hard-earned cash to a trustworthy service that is licensed and has solid associations with notable professional authorities.
Frequently Asked Questions
1: What Skills Do You Need to Be a Notary?
Ans: You should have a bit of experience in attesting various documents. Further, knowing the whole documentation process of various business-related queries would be a plus.
2: How Much Do Notaries Make on Average?
Ans: It is tough to quote any figure here. These professionals earn nearly the same as any other noble professional earns per Anum.
3: Is It a Tough Ask to Be Notary Agent?
Ans: Not really. If you have the experience and know-how of various aspects of this profession, you are all good to go. It won't be a tough ask for you to be such an agent.
4: What Is the Work of Notary Public?
Ans: These are the professionals who help the general public in dealing with various fraud deterrent activities.