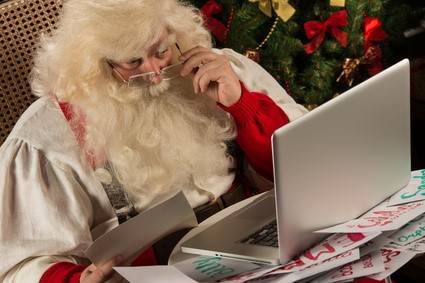 Just because Santa just came down your chimney does not mean that process serving services should go dim. I mean, truthfully, what better time to serve someone other than on the holidays? No, I don't mean that in a calloused and mean way but rather during the holidays, where are people likely to be? With their families, of course! This means the people or person you wish to serve will be easy to find and readily available for process servers like Dr. John Patrick Keefe II to make contact with. Yes, John Keefe works on holidays. Isn't he great?
So, what do you do if you have a pressing matter that needs to be addressed via process serving and it just so happens to be Christmas Eve? Well, you call up Dr. John Patrick Keefe and you tell him what you need. John will undoubtedly set down his glass of eggnog, put his Christmas stocking on, and jingle all the way to the person needing to be served. Guess what else? Mr. Keefe might even just sing a few Christmas carols on the way!
What better Christmas gift could you ever give to you yourself than the ability to have someone in your life process served that may have done you wrong? I certainly can't think of anything! Imagine a man dressed up as Jolly Old Saint Nicholas carrying a big red velvet bag with a golden draw string. He pulls up in front of a dimly lit residence and knocks on the door. When the occupants answer the door, Dr. Keefe will let out a jolly "Ho, Ho, Ho!" and pull out the court documents from his red bag and say, "You've been served!"
Now, some might think this strategy isn't very nice but we at Oklahoma Judicial Process Servers think that it is quite genius! Why? Because nobody is going to be ducking the law or in hiding during the holidays. No, siree! The holidays are one of the best times to find someone and get those court documents in their hands so that they can begin giving you what you need from them by way of the legal system.
Another scenario can involve Pilgrims. You know which holiday I'm getting at, don't you? That's right, Thanksgiving! Dr. John Keefe and Friends can dress up as Pilgrims or little turkeys and head on over to the place where the legal documents need to go and get them served with success. Who on earth isn't going to open the door for pilgrims and turkeys?! I can hear it now. "You've been served, google gobble!"
The point is, Dr. John Patrick Keefe II cares about you and your needs. He doesn't want your holiday season to be ruined because you are worried about getting somebody served. No way, man! John Keefe wants you to suck on your candy canes with robust Christmas Spirit knowing full well that he has your back.
Happy holidays!