Introduction:
In the fast and busy environment of corporate or commercial business, many circumstances arise when you need a private investigator to clear the black and white. A corporate, private investigator exposes the misconducts in your business either committed by employees, the management, or third parties.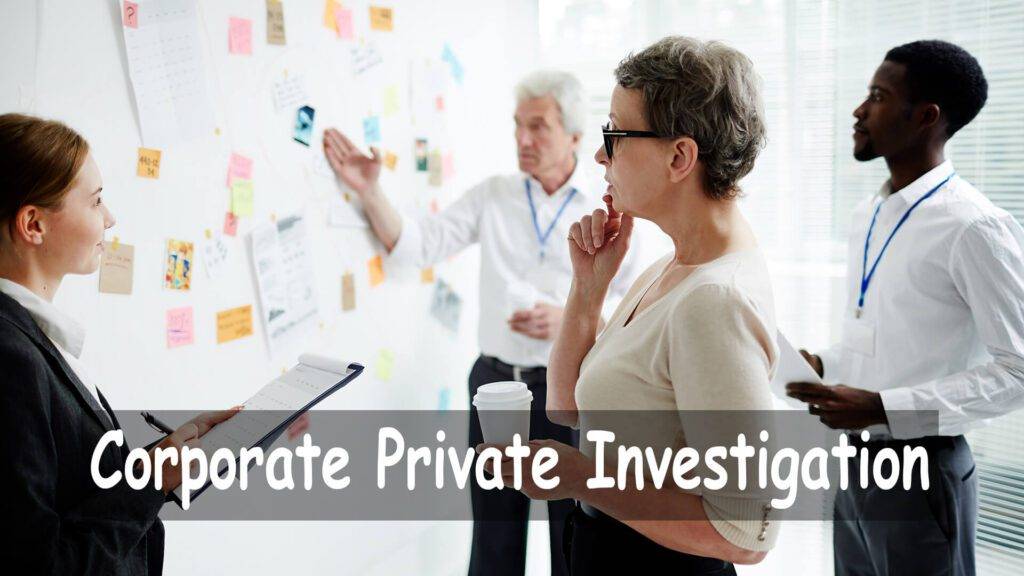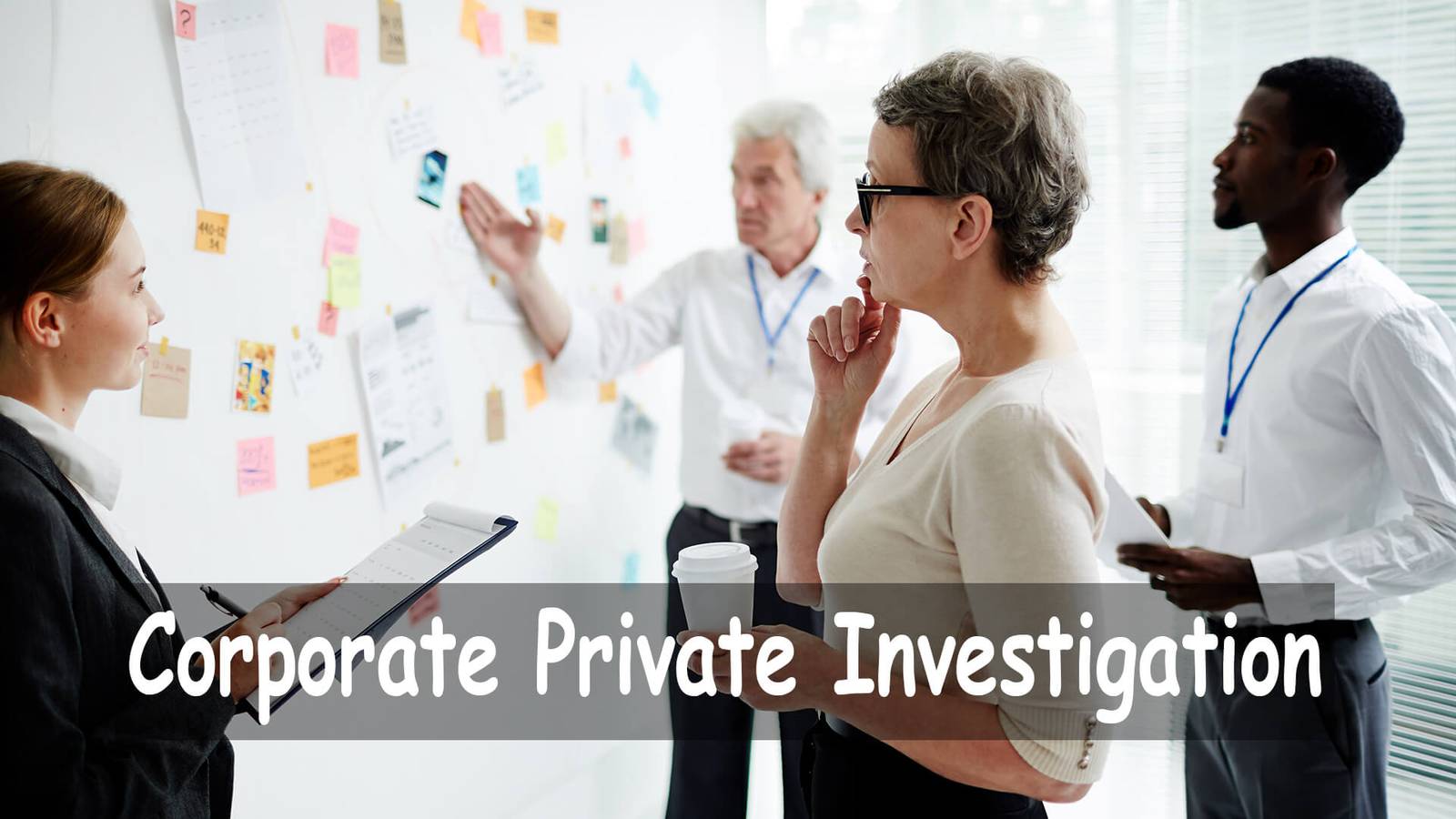 Corporate business investigations can be of many types, and they can vary according to your business needs. A corporate investigator can help you to unveil a cheating partner or to uncover any misappropriation and fraud in your company. The foremost job of a corporate, private investigator is to ensure that your business is working well within the law.
Types of Corporate Investigation:
Based on the conditions and circumstances that you're looking for to investigate in your business, a corporate investigator performs one or multiple types of investigation. These investigations can be:
1. Undercover Corporate Investigation:
A corporate investigator uses undercover investigation to investigate misconducts within the company or business. The corporate investigator can examine employee wrongdoings like theft, harassment, etc., by mixing within the company employees.
2. Research Business Investigation:
Private corporate investigators conduct detailed research of the management, company, and employees to check their background. To get information on the business and companies with which you make investments, purchases, private equality, acquisitions, joint ventures, merger, and venture capital, private investigators also do research investigations.
3. Corporate Financial Investigation:
A corporate, private investigator performs a financial investigation of the company or business finance records to find any money laundering, fraud, misappropriation, and embezzlement.
4. E-Discovery Investigation/ Electronic Business Investigation:
Private corporate investigators conduct electronic or e-discovery investigations to check data and information of the company and employees, which are electronically stored. Corporate investigators can also restore the lost and deleted data to investigate and collect evidence.
5. Corruption Corporate Investigation:
A corporate investigator who is investigating for corruption in any business or corporation can reveal business infiltration, spying, fraud, corruption, illegal money transfer, and foreign exchange.
Beginning a Corporate Investigation:
If you want to start a corporate investigation, there are many best options available. Here we are listing some best corporate investigation sources which you can use to start a corporate or business investigation.
Another great starting option for starting a corporate investigation is Economist.com. Here investigators can find the insight and opinion of international affairs, science, finance, technology, world politics. This website also provides an insight into cultural trends and regular industry, business, and country reports.
Securities & Exchange Commission EDGAR Database Services:
Securities & Exchange Commission EDGAR Database is another best resource for corporate business investigators to collect information about a company or business. The EDGAR Database contains data and information of all the foreign and domestic companies.
It contains the periodic reports, file registrations, and other forms that are required to be filed electronically to EDGAR. Any person can access and download all this information for free. Here we can find a complete instruction guide for searching information in the EDGAR database.
Hoover's Online:
Hoover's online is an extensive database of millions of companies. Here investigators can look up information on specific companies. This site has in-depth coverage of over 85 million companies worldwide. The editorial staff and researchers of Hoover's online continuously update this site to provide up-to-date business industry information to its subscribers and users.
Corporate investigators can also need patents and other information for their investigations. To collect data regarding patent applications and documentations following are the best places to visit:
Free Patents Online:
Free Patents Online is a great resource to collect information about patents. It provides fast and convenient access to millions of patients. This data and information can be used by detectives, investigators, attorneys, and inventors for patent searching worldwide.
United States Patent Supplier(USPS):
The USPS is a good idea to start your investigation about anything about patents. USPS allows anyone to search existing patents, including published patent documentation and published patent applications.
Overview of law, regulations, and procedures
Overview of the patent process (including application forms and application fees information)
List of programs for business inventors, entrepreneurs, and small businesses that might need help in legal matters, including patent application, form filling, etc.
Services that a Corporate Private Investigator offer:
1. Pre-employment and post-employment screening:
A corporate, private investigator has the best skills, tools, resources, and experience to conduct screening of employees according to the client and company requirements. Professional screening of employees by a potential corporate investigator can help your company or business to avoid any illegal activity in your company.
2. Investor Background Checks/ Due Diligence:
A private corporate investigator carefully investigates the validity and authenticity of the provided information of the company and employees. Corporate investigators use their resources and tools to perform a complete background analysis of the company. An investigator uses his experience and resources to discover or reveal any unseen risk that can keep you from making good decisions and investments for your business.
3. Undercover Operations:
Private corporate investigators use undercover investigation techniques to investigate any unlawful and unethical employee behavior. To collect strong documented evidence of such activities, corporate investigators start mixing up with company employees to study the company environment and to monitor employee's activities.
4. Surveillance:
A private investigator is well known for all tricks and techniques for an investigation. Corporate private investigators in Oklahoma are available to work 24/7 according to the client's needs. Corporate Private investigators use different surveillance techniques to collect photos, video, or audio evidence as proof.  So the company can take action based on these undeniable pieces of evidence.
5. Monitoring GPS Services:
GPS checking can be utilized to guarantee organization proficiency and keep away from worker wrongdoing. GPS vehicle checking service is the perfect option in contrast to observation and can be utilized as an enhancement or substitution to conventional hands-on work. The private investigator of Oklahoma has a qualified and tech promptly accessible GPS beacon. The safety tool precisely records all movement exercises, including date, time, area, and speed.
When the GPS screen is set up, our group will follow the area of the vehicle progressively. The services furnish you with reports and ordinary updates of all action. The customers likewise have the choice to lease our GPS units and direct the observing in-house.
6. Area Based Social Media Monitoring Services:
The private investigator of Oklahoma has a setup of instruments devoted to advanced crime scene investigation and web-based media observing. These devices grow our ongoing checking abilities, furnish us with verifiable web-based media information, and give applications to both cold and new cases. The best-in-class innovation enables us to screen explicit areas for active online media action and cross-reference the client's character across various web-based media stages.
How to Check If I Need a Corporate Private Investigator?
Organizations and companies utilize corporate examinations, not exclusively to demonstrate suspected illegal movement. However, corporate, private investigation allows you to shield your company from the harmful potential. So if you are worried about the prosperity of your business or organization, an agent is an impartial source that can give you solid data.
Also, huge enterprises will have specialists on retainer or have inside agents, so they are continually mindful of each feature of their organization. With an enormous pursuit, this data is fundamental to their prosperity. A Corporate, private investigator can give proof that is lawfully and expertly acquired. They can likewise assist you in preventing future illegal or criminal occurrences.
Frequently Asked Questions (FAQs):
---
1. How does the corporate investigator work under each case?
Every business needs to hire a private corporate investigator who will go through their business documents and handle all financial cases. The corporate investigator will generally be motivated to find out all legitimate business authorities that are beneficial for your business.
---
2. What will an expert business investigator do?
An expert investigator of the corporate industry will conduct and follow all stakeouts and individual behavior to learn more about your business setup. They will go through all databases and records online to conduct any case related to your company.
---
3. Can the private corporate investigator spy on the owner's cell phone?
A private corporate investigator will access the cell phone of every business owner and the employees to record all activities. The activity of investigation will allow them to get all comparable evidence and proves related to the case.
---
4. Is it worth hiring a professional corporate investigator in Oklahoma?
Family law offices can suggest trustworthy private agents that are proficient as well as educated about the laws. They will not assemble any proof illicitly, which could subvert a separation case. They will give exceptionally point-by-point reports that will help the lawyer present an intensive case in court.
---