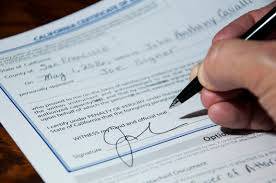 Under state law, if notary public performs any wrong or criminal notarization, this may leads notary public being found in guilty of a misdemeanor in wrong case. Consequently, notary public has to face some penalties as suggested by state law. Following are some possible penalties of wrong notarization which they may have to face if  found involve in any misconduct. 
Notary Commission Suspended and Revoked
Commission will take away or suspend the authority of notary public, if notary performs any misconduct or any criminal offense. This suspension may be temporary or permanent based on the nature of his misconduct.
Commission can revoke or suspend the notary public on the following grounds
If notary public fails to comply with the state of law.

The notary make fraudulent mission statement on commission's application

If notary public does not follow the rules and regulation of commission.
Criminal Penalties
State's law also set some criminal penalties for notary public if they perform any illegal act or involve in any fraudulent activities. Notary public will have to pay criminal penalties in the following case.
Notary who knowingly executes a notary certificate containing a statement, the notary knows to be false or, perform any act in the intent to deceive or defraud is also a guilty of misdemeanor.
Civil Penalties
Some types of misconduct may require the notary to pay a fine or other civil penalty.
For example , a person who acts as notary after their commission expires can be fined $100-$500 .
In Virginia, a notary who uses notaries in his or advertise this title or any other term in the  language will be  subject to a maximum civil penalty of $500

In New York , committing certain advertising violations may result in a civil penalty up to $1000

Law Suits and Financial Liability
If a state does not fine notary or levy other punishment of misconduct, notary  will still be liable for the signer in the court for financial loss, whether  the notary commit the fraud intentionally or unintentionally.
A notary is not the only one who can held  liable for the misconduct, employers and bosses  are also held liable for that misconduct as well, if they ask  notaries to perform  that task which violate laws of commission and states.
Imprisoned
Notary public may held liable for imprisonment in some cases. For example; if someone lost his life due to the misconduct of the notary public then, he will be imprisoned for some years. Further, He will also liable for imprisonment, if someone bear heavy damage due to notary public criminal offense or misconduct.
Conclusion
According to law no one is free from law. So, if notary public in Oklahoma commits any fraudulent activity or performs any illegal act then, notary public will held liable for various penalties of wrong notarization.Which we have described above. It is moral duty of a notary to perform his duties with loyalty and purity. Further, these penalties are used as coercive force for many notaries who are not loyal with their job.